Aquakallax
Regular price
Sale price
€44,95
Unit price
per
Sale
Sold out
Our spawning box free spawner ⭐⭐⭐⭐⭐ leaves nothing to be desired.
With a size of 250 or even 350*150*150mm*, cover, integrated HMF filter, original GN air lifter, air hose including check valve, hang-on device and optionally mega-strong attachment with double suction cups "Made in Germany" and the wedge insert/spawning grid combination the breeding is a blast💪

Spawning box for free spawners with integrated filtering.


The special feature of this spawning box is the open access to the spawning site. For long-term spawners, the preferred spawning substrate is placed directly on the spawning grid. Once discovered, the same spot is visited again every day to spawn.
Barbs, rasboras and also tetras sometimes have a difficult start in life. Spawning predators, which can even include the parents, ensure that only a fraction of the offspring make it through.
Barbs and rasboras have non-stick spawn. This falls through the spawning substrate (example: Java moss, very popular with guinea fowl danios) to the bottom where it is easy prey for many aquarium inhabitants.
This no longer happens with our spawning grid.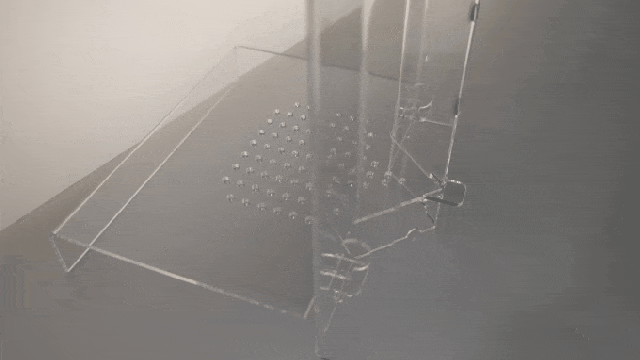 (the wedge insert can also be used without the spawning grid)


But tetras whose spawn is "glued" to fine-feathered leaves also have a much greater chance of growing in peace thanks to the wedge insert.
Immediately after hatching, the young animals seek shelter and follow the current through the narrow slots in the wedge.
The built-in HMF filter ensures a constant supply of fresh, oxygen-rich water. This helps to prevent spawning fungi and supports the existing filtering of the entire tank.
Details such as a hose feedthrough and rounded edges without visually disturbing adhesive spots or bulging silicone joints make the difference.
250x150x150mm or 350x150x150mm ( *inner dimensions )
-integrated HMF filter with 45ppi fine filter mat and 12mm GN air lifter (up to 130l/h)
-Cover
-Height-adjustable hang-on device
-strong double suction cups (if hang-on is not possible)
-Air hose (approx. 30cm) including check valve
- Wedge insert (approx. 1mm passage size)
-Spawning grid
-Body made of 3mm thick acrylic glass (clearer than glass and much lighter!)
shares
View full details